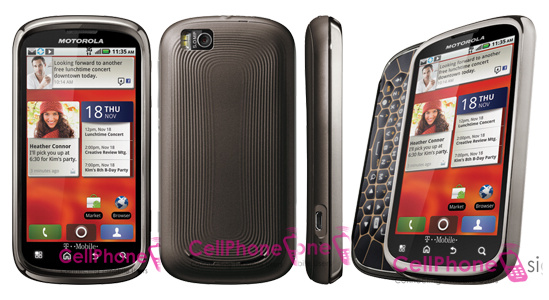 New Pix and Details!
Our friends over at
Cell Phone Signal
have released pictures of the new Motorola Cliq 2 that we mentioned yesterday. This monster will have a 5 mega pixel camera, a capacitive touchscreen, Wi-Fi with (probably) UMA calling (pretty standard for T-Mobile high-end handsets these days), and a cool slide-out honeycomb style qwerty. The honecomb style is making us think it may possibly bypass Froyo and Gingerbread for the new Android 3.0, Honeycomb.
If it
is
going to use 3.0, then we are looking at (drumroll please) a March/April 2011 release. Both CellPhoneSignal and GSMArena are saying from sources that it will be announced in Vegas at CES. Both sites are unwilling to pin a date on the release, but I will - if you keep in mind it's only an assumption based on another rumor that Android 3.0 is dropping in March.
Source CellPhoneSignal via GSMArena
markstone@pinstack.com