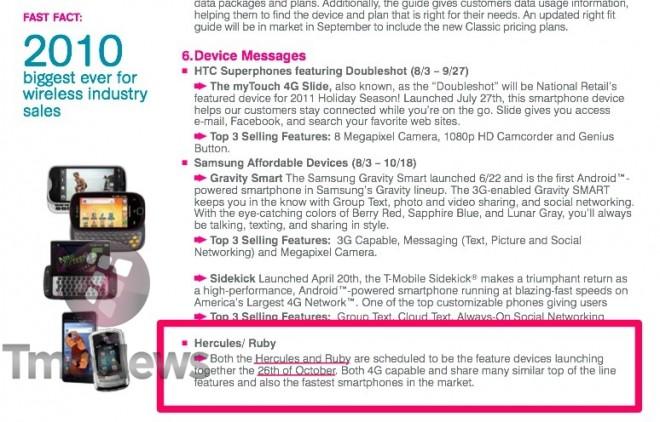 October 26 on the Big Pink Network!
We just discussed leaked specs for the Ruby
(link to our PinStack article
here
) and now we have pretty solid evidence that this 1.5 GHz Gingerbread monster phone will launch alongside the Samsung flagship Galaxy S II (aka the Tmo name "Hercules"). The slide above was sent to TmoNews (
link
) but they do not identify the source.
We really don't know that much about the Ruby except a few blurry rumor-style images and some leaked specs. However, leaks don't come to us by accident, and leaks do not come via disgruntled or rebellious employees that "secretly" slip us the info under the table! They are well planned parts of an overall marketing campaign with the purpose of creating excitement. That's why so many of these rumors end up being true - because they came straight from the office of the CEO. The Ruby has been shown to us just enough to get us excited - and I am! 1.5 GHz processor, 4.3" Display, 8 MP Camera, 2 MP front-facing camera.
Of course, although TmoNews pretends to not know this, the Hercules is the Samsung Galaxy S II Superphone in T-Mobile clothing. We all already know about this device, the only phone which has the capability to outsell the mighty iPhone. It has been setting sales records everywhere in its few months on the market, and we'll see how much of a boost it gets when it rolls out in the smartphone-hungry US of A!
markstone@pinstack.com